Why hello there, my fellow Whovians!
Adam and I are SO stoked for Saturday--we think Peter Capaldi is going to do a stellar job as The Doctor. Although we will both be working during the day, we will be celebrating with some TARDIS inspired cupcakes! I've been scrolling through Pinterest for almost 2 hours now looking at anything and everything Doctor Who, and I am getting so excited! Be sure to share this post with other Whovians--they will love it!
I was inspired by the season 8 trailer below to come up with a treat for my Whovians to enjoy during the premiere on Saturday! If you are going to a Doctor Who viewing party, you have to try these!
Ingredients:
1 1/4 cups all-purpose flour
1 1/2 cups self-rising flour
2 sticks of room temperature butter (unsalted)
4 large egg whites
2 cups sugar
1 cup whole milk
1 teaspoon vanilla extract
1 tablespoon of Wilton's royal blue food coloring gel
2 drops of Wilton's violet food coloring gel
2 cups of
your
favorite vanilla frosting
1. Preheat oven to 350 degrees
F.
2. Line cupcake tin with cupcake liners of
your
choosing.
3. Mix
your
flours together in a bowl and set aside.
4. In a large bowl (or mixer), cream your butter until it's
velvety smooth.
Gradually add in your sugar, and continue beating butter and sugar together.
5. Separate
your
eggs to be left with just egg whites. Add
your
egg whites one by one to
your
large bowl of butter and sugar and
continue
mixing thoroughly.
6. Pour in half of your milk and vanilla extract into your large bowl, mix, and add in half of
your
flour mixture. Mix well.
7. Mix in the remaining wet
ingredients slowly and continue mixing. When sufficiently mixed (perhaps 3 mins by hand or 1.5 min with hand or standing mixer), pour in remainder of dry ingredients. Continue mixing--don't over mix, though, since that would change the texture. Drop in food coloring and mix once more.
8. Line your cupcake tin/liners with your cupcake mix between 1/2 and 3/4 full.
9. Bake in the oven at 350 degrees F for 25 mins (depending on oven).
10. Use toothpick to check if it's done after 20 mins--if it goes in and comes out clean it's done!
...they're sweeter on the inside!
These cupcake wrappers and toppers are adorable, am I right?!
You can buy the PDF to print these awesome TARDIS wrappers and toppers
on this site
!
OH yes! And she has a whole Doctor Who theme on her site--check out her other products: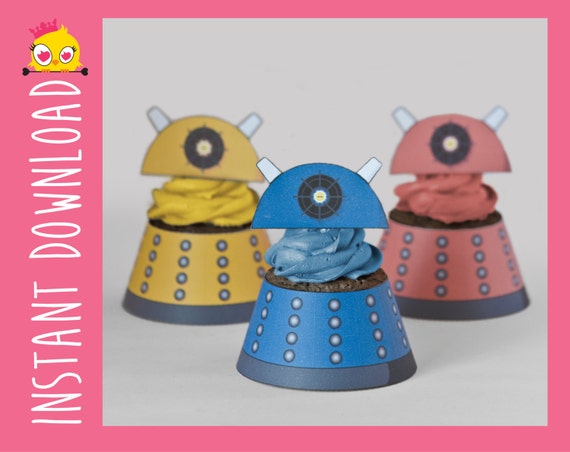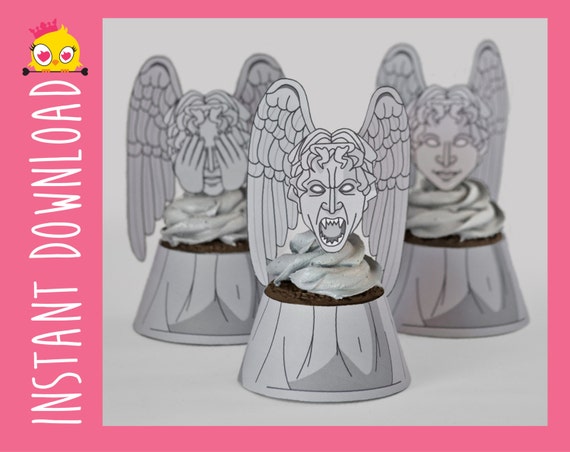 How are you planning to celebrate the return of Doctor Who?
xo
The Mini Family
Disclaimer: I am in no way affiliated with BBC or Doctor Who. I was not sponsored to write this post, and all opinions are my own.