This shop has been compensated by Collective Bias, Inc. and its advertiser. All opinions are mine alone. #CampbellsShortcutMeals #CollectiveBias
Wow, what a busy week it has been already!
Lately, my to-do list has felt like it stretches on for miles and miles, and my morning alarm clock has been set earlier and earlier as the week goes on (countless deadlines to meet, errands to make at Walmart, etc). We're thankful to be so busy and have work to do, but the last few weeks or so, it seems as though Adam and I have not had a chance to sit down and enjoy a meal at home together. Whenever we are at home, we are both working on our separate projects and hardly have any time to eat a meal together (let alone prepare one!)
The last couple of nights I have had to rely on leftovers. Which is fine, don't get me wrong, but sometimes it is nice to be able to find a little bit of time even on the busiest of days to prepare a delicious homemade meal my husband and I can enjoy together, even if it's for just a few minutes before we return back to work.
Today, I'm sharing one of my favorite one-pan dishes--Cajun shrimp pasta! This pasta dish features delicious shrimp seasoned in Cajun flavors and it is simple enough to make all in one pan with some of our most common pantry items we almost always have on hand at home (including traditional Prego® Italian Sauce). Whip up this pasta dish when you're in a pinch and forgot about dinner--it's perfect for back to school time and last minute weeknight dinners!
Ready to shop for delicious Campbell Soup Company product ingredients? Hover over the photo below to click through to Walmart.com and purchase them!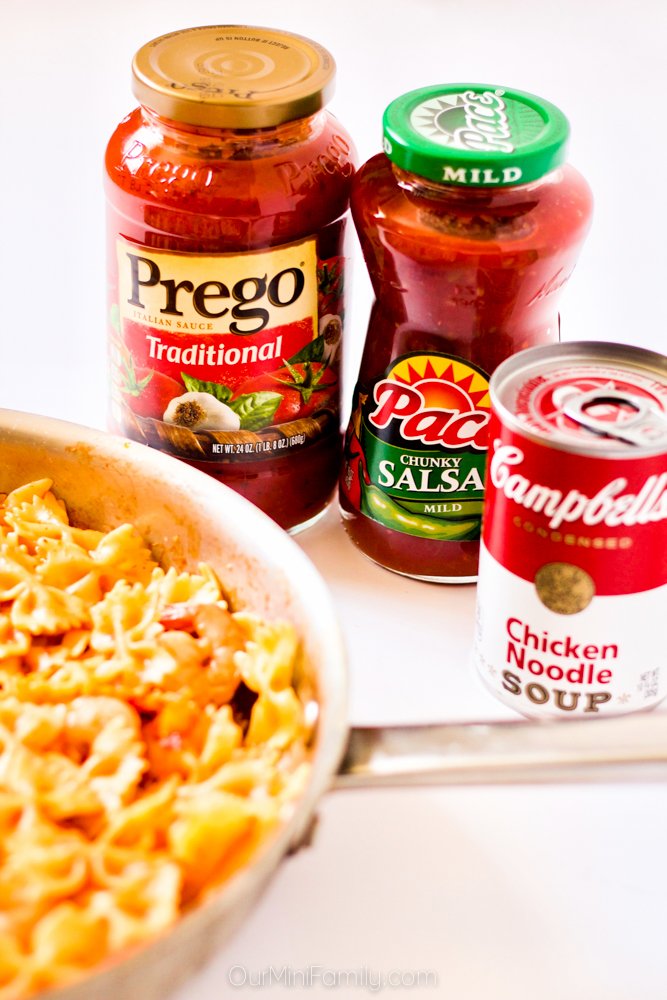 One-Pan Cajun Shrimp Pasta
12 oz of fully cooked shrimp (medium), frozen

12 oz of farfalle pasta, uncooked

1/2 of a cup of

P

rego

®

Italian Sauce (Traditional)

2 tablespoons of whole milk

1/4 of a large red bell pepper, diced

1/4 of a large orange bell pepper, diced

1/4 of a large yellow bell pepper, diced

3 tablespoons of cayenne pepper

1/2 tablespoon of garlic powder

1/2 tablespoon of oregano

1/2 tablespoon of sea salt

1/2 tablespoon of ground black pepper
Heat a large stovetop pan to medium-low heat.

Pour the pasta and the water into the pan. Cover the pan and let it simmer for 5 minutes, and then stir.

Allow the pasta to absorb the water and cook entirely, stirring occasionally (i.e. about 10 minutes on medium-low heat).

Turn down the heat to low. Pour the frozen shrimp into the pan, stir it into the pasta, and cover for another 5-10 minutes and allow it to begin to thaw and warm up.

While the shrimp warm up with the cooked pasta, dice the bell peppers and remove the seeds.

Stir in the

P

rego

®

Italian Sauce, bell peppers, and all of the seasoning. Stir well.

Keep the pasta on low heat until the shrimp is completely warmed up and the pasta and shrimp have begun to soak up the

P

rego

®

Italian Sauce and seasoning.

Serve immediately and enjoy!
Get a behind-the-scenes look!
Since Prego® Italian Sauce has a rich flavor, color, and thickness that come from hours of simmering, it is perfect for preparing my favorite one pan dishes! Prego® Italian Sauce (Traditional) is perfect for so many of my favorite weeknight dinner recipes, and that is why we always pick some up when we are at our local Walmart, along with Pace®, Campbell's® Condensed Chicken Noodle Soup, and all of our other pantry essentials!
Don't forget to save this recipe to Pinterest and Facebook!