This shop has been compensated by Collective Bias, Inc. and its advertiser. Product was provided by the client for review; however, all opinions are mine alone. #WorldsSmartestToothbrush #PhilipsSonicare #OprahsFavoriteThings #CollectiveBias
Entertaining guests around the holidays can be a bit uncomfortable for everyone involved. But it does not have to be this way if you can take a few minutes to think about what you can do to make your guest feel most welcomed in your home.
I know when I am crashing at a friend's condo or a family member's home, I always feel like I am encroaching on their space and feel hesitant to make myself at home out of fear that I'll outstay my welcome. What I have learned helps is making small gestures that treat your house guest more like a traveler or hotel guest, and going out of your way to provide them with comfort and necessity items to make them feel genuinely welcomed and encourage them to really get comfortable and feel-at-home while staying at your place while they are in town.
One time, when Adam and I were crashing at a friend's house during a long road trip back home, we put our bags down in her guest room and I noticed there were two gift bags sitting on the edge of the bed with each of our names on them. It was nothing too fancy, but inside, she wrote a note welcoming us for the night that included a $5 gift card for coffee, as well as some toiletries we may have forgotten.
I had never felt so welcome in someone's home before that moment, and I thought it was such a kind and thoughtful gesture that I had to start doing the same thing whenever we had friends come to crash at our place!
Every time we have a friend come to stay with us, I always make time to include a gift basket for her so she feels welcome in our home and that we actually want her to enjoy her stay with us. Today, I am sharing what I consider to be the must-haves for putting together a guest gift basket during the holiday season including the
Philips® Sonicare DiamondClean Smart 9300 Rechargeable Toothbrush
!
Hover over the image below to shop for one of my favorite, holiday guest gift basket must-haves!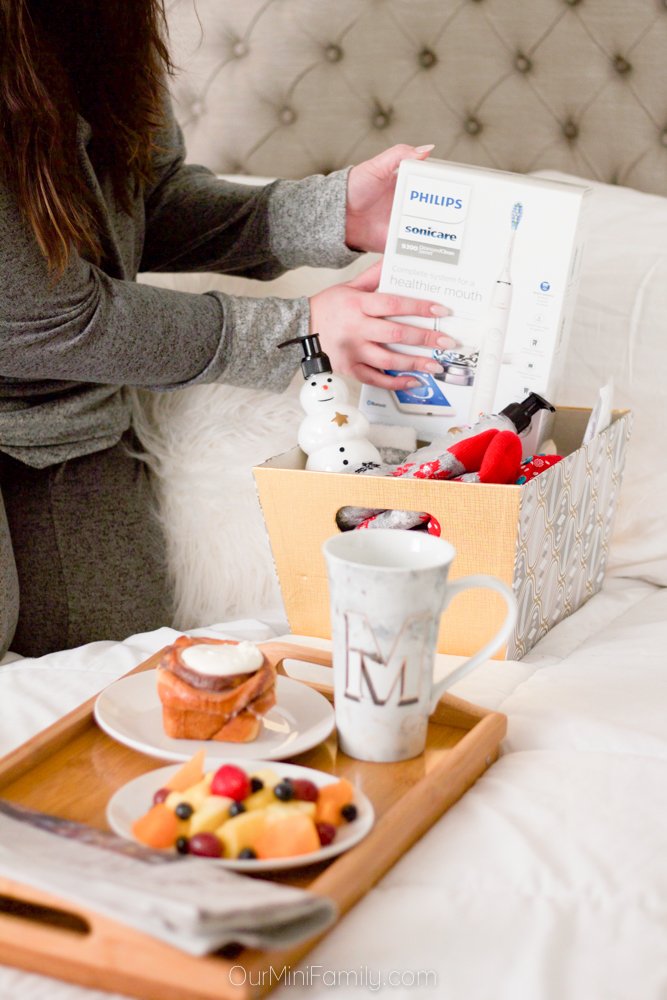 Whenever one of my girlfriends crashes with us, we try to spoil her and make her feel like she's staying at a bed and breakfast and not just crashing it with us to save money during her travels. Adam likes to go out early in the morning to pick up breakfast for everyone including

fresh fruit, pastries, coffee, and a few magazines and newspapers for our house guest

.

I always enjoy putting together a thoughtful and convenient gift basket for her so she has everything she could possibly need to be comfortable while staying with us while she is in town visiting with family through the holiday.
Taking the time to go out of our way to make our guest feel appreciated will make her feel like she can come to crash at our place whenever she is in town--and that is just how we would want to be welcomed when we stay with our friends, too!
For a guest gift basket during the holiday season, you can stock up on festive necessities to bring her some holiday cheer while she is traveling during the busiest time of the year at the airport! Traveling in December can be very stressful, so I like to include spa-like necessities that will bring a touch of luxury and comfort to her gift items.
DIY Holiday Guest Gift Basket
Must-Have #1: Use a Festive and Decorative Basket, Bag, or Box
Find an affordable and cute way to store your gifts for your house guest with a fun basket or box. I found this gold and silver one on sale and I adore it! Don't over think this, but find a cute basket or bag to store all of the items in.
But at the very least, don't re-use an old shopping bag. You do not want her thinking you forgot about the bag at the last minute--that may make her feel like she was inconveniencing you and may make her feel a bit unwelcome and if she's encroaching on your life which is what you do not want!
Must-Have #2

:
A Luxury Necessity Item
Every gift basket should have a main gift item that you went out of your way to buy just for her to show her you thought about her and had her on your holiday shopping list.
Aim for something that she needs, but not something she would go out of her way to buy for herself regularly. In the past, I have given friends girlfriends a new hairdryer and organic skincare, and this time around I included the Philips® Sonicare DiamondClean Smart 9300 Rechargeable Toothbrush as a part of her holiday guest gift basket!
Since I started using the

Philips® Sonicare DiamondClean Smart 9300 Recha

rgeable Toothbrush, I have noticed just how much cleaner my teeth and mouth feels after using it. Everyone needs a toothbrush, and most of the time I end up forgetting to bring one when I'm staying at a friend's house. What better way to save your house guest the hassle of having to run out to buy an emergency toothbrush than by gifting her with an advanced one that will help her achieve

exceptional oral health results and connect with an app to give her r

eal-time feedback and personalized coaching! Click here to learn more about the Philips® Sonicare DiamondClean Smart 9300 Rechargeable Toothbrush and all of its features, and keep scrolling to read more about my experience using it.
Must-Have #3: Soft, Printed and Festive Pajamas
I cannot tell you how many times I have forgotten to pack and/or bring any form of pajamas with me while staying at a friend or family member's home.
I always end up sleeping in whatever clothes I wore that day, and it's never truly comfortable. My solution, as someone who has friends come to stay with her, is to provide your house guest with pajamas ahead of time! So that way, when they arrive at your house to spend the night, they have something clean and comfortable to wear to bed!
You can find really affordable pajamas sets this time of year! And if you're worried about sizing, always go up a size or maybe even two sizes if you are really unsure. The last thing you want is to give your friend a pair of pajama pants and then come to realize they don't even fit her. Talk about making her feel uncomfortable! Avoid that entire fiasco altogether and you could even ask her what size you should buy her and tell her you will have a surprise waiting for her when she gets to your house!
Must-Have #4: Comfy Socks
Comfortable socks are a must-have item for your holiday guest! This is especially important if your friend is visiting with you and it is chilly outside. Make her feel warm and welcomed with a cute, fuzzy, warm pair of comfy socks to wear while she is staying with you. I always find so many fun socks on Amazon that are affordable and festive for the holidays--you can buy a pair for her and one for you, and you can match and have a good laugh about it!
Shampoo, conditioner, soap, and basically any toiletries that are normally restricted by airport security are absolute must-haves to include in your guest's welcome basket. If you have a friend who colors her hair, aim to buy her color-safe shampoo and conditioner. Show her you thought of her needs and make her feel even more welcome since she will realize you took the time to buy her what she truly needs.
Same goes for any other toiletries items--stock up on feminine hygiene products, bobby pins, hairspray, face wipes, and any other toiletries you can think up. You don't necessarily have to put those items in the basket, but having them on hand while she is visiting is great so she does not have to go out and buy anything for herself while she is visiting with you.
Must-Have #6: Bath and Facial Towels
Traveling leaves you feeling dirty and grimy after being around strangers for hours at a time. Odds are, your house guest will want to take a shower and clean up after she's been on the road. Prepare clean bath and facial towels for her and set them aside as a part of her gift basket, so she knows she can take a shower without hesitation of inconveniencing you over needing to do laundry to get a clean towel or two for her to clean up while she is staying with you.
The first time I used the

Philips® Sonicare DiamondClean Smart 9300 Rechargeable Toothbrush I felt like my teeth were just that much cleaner compared to my old toothbrush! It has p

remium brush heads that give you exceptional oral health results, and the s

ensors and app help you perfect your technique, and get a complete clean.
What I was blown away by is the fact that the

Philips® Sonicare DiamondClean Smart 9300 Recha

rgeable Toothbrush connects

with the Sonicare app to give you real-time feedback and

personalized coaching to help you improve your dental hygiene;
The Sonicare DiamondClean Smart 9500 Rechargeable Toothbrush was named one of Oprah's Favorite things in 2017, and I had the chance to try a DiamondClean Smart for myself. This toothbrush is advan
ced with 4
modes and 3 intensities let you focus on each aspect of your oral health, so you can customize it and work on whatever you want to when it comes to your oral health.
If you're still on the hunt for a great gift for a close friend who's staying with you through the holidays or a family member (or even as a gift for yourself), you can give the gift of oral health with the

Philips® Sonicare DiamondClean Smart 9300 Recha

rgeable Toothbrush from Amazon!